10/Jul/2020
Juan Nevares
0 Comments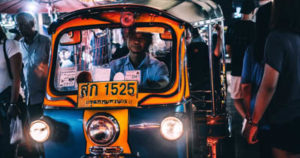 Are you afraid to miss the must-sees of this Asian country during your trip? Then do not miss this selection of 10 things to do and see in Thailand. Prepare your camera and cheer up, because you are going to fall in love with this country.
The Royal Palace in Bangkok
At Wat Phra Kaeo Temple, one of the most impressive architectural complexes in all of Southeast Asia, you will find the holiest statue in all of Thailand: the Emerald Buddha.
The wall paintings are inspired by the national poem Ramayana, of an intense spirituality. It is one of the most important tourist attractions in the country and is located on the island of Rattanakosin. As you can see, it has pagodas covered in gold. If you walk a little you can find other wonders such as Wat Po and the National Gallery.
Shopping at Chatuchak Market
If you want to shop in a Thai market, the Chatuchak market is what you are looking for. You will find authentic bargains as well as antiques. In this great market you will find everything: from decoration for your home, craft objects or snacks and different typical foods. A paradise for the curious!
Take a dip in the Gulf of Thailand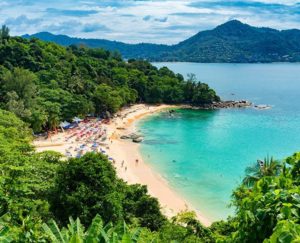 It would be crazy to leave Thailand without having stepped on one of its tropical beaches. You can choose the simplicity of Koh Samet Island or Chang Island, where you will find endless activities related to sustainable tourism. After dancing the night away in Pattaya or savoring all the delights you'll find in Koh Samui, it's time to head to other natural treasures: sandy beaches where tranquility reigns. Koh Tao is a popular destination among families and every year the number of divers who dare to dive into its waters increases, making it one of the best destinations in Southeast Asia for diving. And if you want to leave behind all the stress of big cities, escape to the Koh Chang Marina National Park in Koh Mak.
Swim in the Andaman Sea
Whether you are looking for adventure activities such as kayaking or having a great time drinking a cocktail with your friends on a tropical beach, the islands of the province of Krabi and Phuket fit your needs.
The most representative of Krabi are its limestone cliffs with abundant vegetation. You can enjoy the best sunsets on this island because the sun filters through the recesses of the rocks.
It is possible to organize different excursions: one of the most spectacular is the visit to Phang-nga with many limestone cliffs that rise hundreds of meters out of the water.
If you're a James Bond fan, make a stop on Ko Tapu Island and enjoy a guided kayak tour of the caves and fjords all the way to the jungle.
Give yourself a Thai massage
Thailand has become a benchmark in the world of SPA, in fact, in almost all hotels you will find a spa where you can hire any type of massage and treatments. In case there is no spa in the hotel itself, you will surely find one in the surroundings. Many of these centers are decorated with works of art and antiques with a sophisticated atmosphere without losing tradition.
Also, if you are someone who is looking for a little inner peace, you will have the opportunity to dedicate yourself to contemplation through a meditation retreat in one of the centers or temples of the country.
Enjoy the local cuisine
There are dishes of Thai cuisine that are internationally known as Tom Yam Kung (a spicy broth with lemon and fresh shrimp) or Phat Thai (rice noodles sauteed with chicken, vegetables and shrimp) however, don't miss the opportunity Try authentic Thai cuisine with its wide variety of dishes.
Go hiking on top of Thailand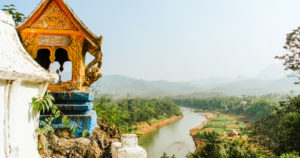 The northern plateau is a region where teak forests abound and there is a lot of jungle, where the mountain canyons hide small secret valleys. Doi Inthanon National Park in the southernmost part of the Himalayas is perfect if you are looking for a good setting for hiking. In this landscape you will find one of its great attractions: the mountain tribes (Karen, Hmong, Yao, Lahu). Chiang Mai is the second largest city and is located in the center of this region.
Chiang Rai is a little gem in the far north. You will love the atmosphere so conducive to disconnect and relax, being the gateway to the Golden Triangle. Mae Hong Son is a dream city on the border with Myanmar, it is located in a deep valley surrounded by high mountains and when you decide to visit it, you will surely agree with me that it maintains an enchanted atmosphere.
Travel by train
Surely you remember the mythical Orient Express, one of the most luxurious trains in the world and that had great bourgeois and members of the aristocracy among its passengers.
You can travel on the train tracks making stops in the main cities such as Ayutthaya, Chiang Mai or Kanchanaburi and from your compartment you will be able to observe the rural and urban landscape of Thailand and be pampered like a prince. In the image below you can see Ayutthaya.
If you make a stop in Chiang Rai you can see this magnificent temple, Wat Rong Khun.
If on the contrary you make the stop in Ayutthaya you can visit this set of constructions. Which one to stay with? With both!
Get in touch with nature in Khao Yai National Park
If you are a nature lover you will love all the national parks of Thailand where flora and fauna are preserved. One of the best known is the Kao Yai National Park, which covers some 540 thousand hectares of forest, jungle and hills. Here, if you're lucky, you can see bears, tigers, monkeys and of course majestic elephants.
Play golf and other sports
The tropical climate of Thailand as well as its beaches make this a favorable country to practice different sports, the vast majority of which are aquatic, however, in Thailand you can enjoy spectacular golf courses.
Every year, many golfers and fans of this sport decide to spend their holidays in Phuket or Chiang Mai. The high quality of its golf courses, where they are located, an outstanding caddie service and one of the lowest rates in all of Asia make this country perfect. In addition, perfect routes are offered for all lovers of mountain biking.